GRI 102-9
Drastic changes to the market landscape drove the Shared Services Group to expedite on-going projects while implementing agile reactive actions to meet growing and unforeseen customer demands in a fiercely competitive environment. Therefore, the number of requisitions increased sharply, especially with the regulatory mandate of implementing service level agreements (SLAs) in all contractual agreements.
The volatile market and entry of fintechs created continuous pressure on prices and demand for seamlessly digital products, increasing the need for rapid automation to reduce product and process complexities. For the year under review, Al Rajhi's Shared Services Group continued to deliver product enhancements and systems upgrades, automating and simplifying processes to enhance the consumer journey and experience.
Information Technology (IT)
The unprecedented nature of the pandemic highlighted the significance of business continuity and strong contingency plans in the event of a serious interruption to IT operations. The sharp increase of demand for digital channels and applications required increased testing environment provisioning. In 2021, the Bank's IT Services executed two full interruption Disaster Recovery (DR) tests as well as nine controlled DR drills successfully.
The IT teams continued to enhance, modernise and optimise systems and infrastructure across the Bank network. The internal Application Programming Interface (API) Factory was upgraded with an automated testing and deployment process in 2021 in order to enhance time to market that enabled a superior level of integration across Bank subsidiaries, merchants and external partners, while also being utilised for open banking initiatives. The 'Bank on the Tablet' programme was launched to further increase digital accessibility.
New digital capabilities introduced in 2021 included the ability to open Minor, FCY and Saving Goal accounts online, as well as enabling functions such as e-Business Registration, e-Business SME card and the e-Financing facility for Watani – Al Rajhi Bank's Shariah compliant flagship Personal Finance solution.
While a number of emerging technologies were also explored and implemented in 2021, the Bank strengthened its core by upgrading its mainframe to a higher version and completing its IT transformation across the Bank network with successful testing and performance management trials carried out. The Bank's data protection was also doubled in compliance with SAMA mandates to two levels; first with the installation of an offline data vault in Jeddah, and second a Cyber Recovery Site (CRS) for data recovery in case of cyber-attacks.
Other notable enhancements across the Bank included a capacity upgrade of the current data domain, the launch of the new Loyalty System and Customer Relationship Management (CRM) system for corporate and retail banking.
In terms of human capital investment, the Bank heavily focused on technological capacity building of its existing employees, training them in the software and digital tools implemented across the Bank, and further familiarising relevant teams with the new systems.
As a result of the technological advances and upgrades during the year under review, POS and Mobile transactions increased significantly; 90% of transactions carried out across the Bank were digital by Q4 of 2021. The bank also achieved a major milestone in digitalisation by increasing mobile banking up to 60% of total transactions, with conventional ATM transactions decreasing by 20%.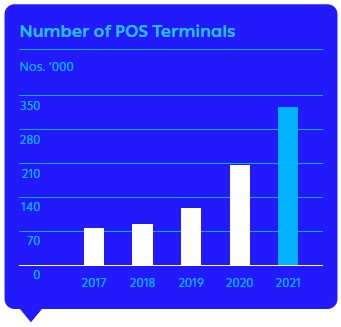 Process excellence
In line with the Bank's objective of differentiating itself by offering a superior customer experience and unmatched Straight Through Processes (STPs) capabilities, the Bank continued to invest in automation and digitisation. The number of transactions executed through robotic process automation (RPA) grew 100% YoY, with more than 1 billion transactions being executed during 2021. This was achieved by growing the number of automated processes by 30% and increasing the number of BOTs by 25%. In particular, retail operations carried the biggest automation effort covering various stages of mortgage application approval. This has positively impacted customer experience where the Bank has maintained our leading position in the market as the number one bank in mortgage journey satisfaction.
The on-going adoption of RPA to improve processes across multiple functional levels resulted in greater improvements and efficiencies. RPA was implemented to execute buyout loan payments, automate vendor payments, execute SAMA transactions, process inward swift messages, and process Office of Foreign Assets Control (OFAC)/ Know Your Customer (KYC) requests, responding to almost 70% of due diligence requests on the same day.
Such a level of automation required thorough control and monitoring. As a result, the Bank invested heavily in automating dashboards and control measures to ensure the correctness of its execution, satisfaction of its customers and adherence to rules, policies and procedures.
Gender equality remains a key agenda for the Bank across all levels of its operation including recruitment through training and career advancement, with the Bank committed to provide equal and fair opportunities based on the employees' educational and professional qualifications and ability to perform the job function. During the year under review, more than 45% of the workforce in Process Excellence was represented by capable, skilled and duly recognised Saudi females who have been instrumental in the success of the Bank's overall automation, execution and digital transformation.
Procurement
The Online Procurement Portal launched in 2020 continues to be highly beneficial to the Bank network; the Bank's dependency on Saudi national vendors that represent 92% of the procurement spend provides a diverse range of products and services at competitive prices, while in turn increasing system dependency resulting in cost efficiencies, cost avoidance, and promoting an overall paperless process. Implementation of strategic framework agreements and a dynamic purchasing system are set to further improve levels of compliance and transparency across the procurement process.

Future outlook
2022 will see the IT teams further explore, design and implement a Microservices platform, a new distributed approach to split larger applications into smaller independent modules that are independently deployable, fully automated and highly efficient, while also allowing the IT departments to continuously innovate, improve functionality and implement new features rapidly and efficiently. The development of employee IT competencies will be given equal priority as developing a number of processes will be carried into 2022 under business operations, mortgage, micro and small businesses, auto leasing and SAMA regulatory enhancements to name a few. The Bank will continue its Systems Modernisation through its IT departments by upgrading critical systems, offloading legacy mainframes and re-engineering business operations.
Aligned with the BOTF strategy, the Process Excellence Team will continue investing in automation and robotics for loan approvals, payments, reconciliation and compliance operations, enhancing the quality of policies and procedures for consistent service delivery and a superior customer experience. The Process Excellence Team aims to further strengthen partnerships to foster an enhanced ecosystem for all stakeholders, and continue to invest in its human capital through training, coaching, career progression and an attractive work environment that supports a balanced work-life.