Corporate Banking Group
Recording a strong recovery
The second COVID-19 wave may have affected communities and businesses straight off the starting blocks in 2021, but the Corporate Banking Group at Al Rajhi effectively recovered from the impact of the pandemic to mark a record year with performance exceeding targets across multiple parameters. Corporate Banking continued to build on its strategic roadmap, widening its market share in assets and growing its liabilities to support the bank asset growth. Operating revenues remained on track given higher average loan balances despite pricing pressures and lower Saudi Arabian Interbank Offered Rates (SAIBOR). During the year under review, Corporate Banking enjoyed a 33% growth of SAR 17.6 Bn. year-on-year.
During 2021, Corporate Banking focused on strong corporate portfolios with optimal capital structure to diversify and expand its client base, adding over 100 new borrowing clients. This focused approach helped in minimising non-performing loan (NPL) levels from 2.5% to 1.7% in 2021, while also maintaining a low Cost of Risk at 70 bps due to higher gross assets coupled with lower-than-budgeted gross charge and higher recovery, a welcome transition from 151 bps recorded in 2020.
The Corporate Banking Group continued to build on the Bank's 360o client coverage model that underpins the 'One Client One Bank' approach, acquiring more liabilities and incremental fee income by collaborating with other business units such as Al Rajhi Capital, Treasury, Private Banking and Takaful. Corporate Banking assisted Al Rajhi Capital in 13 new mandates and collaborated to acquire 45 new Private Banking clients and 200 Retail Banking referrals. The same collaboration also helped Corporate Banking expand its offering to include Advisory, Arranging and Underwriting services while strengthening the Structured Finance team capacities.
One of the major challenges faced during the year under review was the flight to quality resulting from a post COVID-19 economy, with key market players actively looking for buyout assets, thereby driving pricing down. The differential between SAIBOR and the steadily discontinuing London Interbank Offered Rate (LIBOR) also posed a challenge by driving demand for USD financing. The Treasury Group continued working to diversify USD funding sources during 2021, to compete with International Banks and fund long-term assets.
Corporate Banking continued to support post-COVID-19 client recovery efforts and following the second wave at the onset of 2021, helped with their business continuity and financing needs. In line with SAMA directives, Corporate Banking participated in loan guarantee and funding programmes to support clients who required financial assistance during this time. While extending working capital facilities to clients to cover their short-term liquidity requirements, the bank participated in deferment programmes initiated by SAMA to support SMEs.
Supporting evolving business needs
Corporate Banking launched a number of new products in 2021 to meet demands across a rapidly-evolving corporate banking landscape, and to strengthen our B2B product and service propositions; this included the Murabaha Overdraft – an Islamic alternative to the conventional overdraft facility; the UPAS (Usance Paid At Sight) Letter of Credit – for exporters looking for immediate payments on sight or importers with no Usance Letter of Credit (LC) facility, with payments made at sight for credit compliant documents; the Bills Avalisation product was expanded to include the Murabaha structure, while Corporate Cards were introduced for the first time in the bank's history, to meet the transaction needs of corporate and SME clients and increase client stickiness.
By focusing on structured products to grow with a healthy yield especially with the SME and Mid Corporate segments, Corporate Banking successfully expanded to increase its overall portfolio share to ~15% in 2021 from ~12% in 2020. The Bank leveraged on strong performing products such as Point of Sale (PoS) to drive foreign exchange (FX), liabilities and fee income. With the pandemic-driven migration of customer transactions from traditional channels to mobile and PoS, 2021 saw the Bank hold its leading position in the KSA market with 32.2% in PoS market share, supported by a network of 326,121 terminals. The Bank also upgraded around 55% of the terminals to 4G with the Near-Field Communication (NFC) feature during the year under review.
Our Trade volumes especially on LC's improved this year to achieve a higher market share of 7.1%, helping us raise our relative market position by two to sixth for the year under review.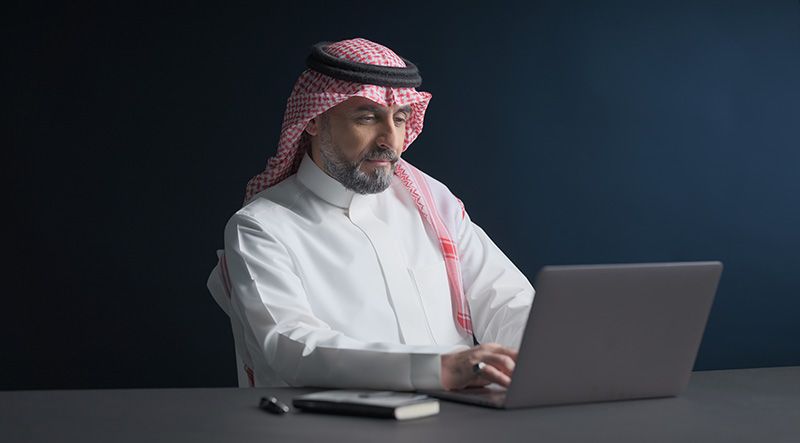 As a result of the transformation plan successfully implemented in 2020 to reinvigorate the operating model and improve the efficiencies of resource allocation, all operational activities were segregated from the front line and consolidated under the 'One Stop Shop' initiative. This allowed Corporate Banking resources to be co-located as Corporate Desks inside select Retail branches. During the year under review, 44 desks went live with plans to further expand the initiative to include 100+ desks across KSA. Further consolidated middle office functions freed up Relationship Managers' time, enabling them to focus on business development. Three dedicated Corporate Business Solution centres in the key cities of Riyadh, Jeddah and Dammam have also been set up to serve holistic needs of corporates covering account service, financing, cash management and trade finance needs.
Rebuilding client engagement
Transitioning from virtual meetings to physical client visits in 2021, the Corporate Banking Business Team engaged with clients on over 3,000 joint visits with the Product Team to understand customer needs and tailor solutions. These visits also served as a springboard for new product introductions and cross-sell pitches. Senior Management visits increased during the year to appreciate client loyalty and showcase continued support; key strategic accounts that Corporate Banking wished to partner with for mutually beneficial loyalty programmes were identified and approached. While continuing to be proactive and increasing provision reserves to cover for expected losses, regular client meetings also enabled Corporate Banking to assess business performance for early warning indicators, resulting in improved decision making and minimised provisions.
Leveraging digital potential
During 2021, the Corporate Banking Group continued its digitisation journey to enhance business delivery and support growth momentum; a dedicated Customer Relationship Management (CRM) system was developed for Corporate Banking to improve sales, productivity and decision-making at both management and front-line level. The system was extended to include other business units within the Bank to enable and monitor cross-sell activities.
The 3600 client coverage model continued its data and intelligence gathering during the year under review across the entire spectrum of perspectives, from customer penetration and segment performance to sales analytics as well as product and service usage, aiding the holistic understanding of the client and reimagining the corporate client experience.
During the year under review the Bank also revamped the Loan Origination System (LOS) to include new features and an advanced dashboard, improving the overall user experience and leveraging system capabilities. Specific upgrades were carried out according to the roadmap across a number of releases. Other upgrades during the year included the automation of the Management Information System (MIS) to include client 360o data to enable more efficient and agile decision-making. The upgrade spanning across multiple releases is expected completion in early 2022.
Visionary partnerships
Strengthening ties with the Public Investment Fund (PIF), Ministries as well as other government-established funds such as the Saudi Industrial Development Fund (SIDF), Real Estate Development Fund (REDF), Tourism Development Fund (TDF) and the Agricultural Development Fund (ADF), the Bank continued to align with and contribute towards the Kingdom's Vision 2030.
As one of the key banks to the PIF, Corporate Banking collaborated closely across internal business units to provide tailored banking solutions and payment solutions for the PIF, its various subsidiaries as well as its newly established companies. Partnerships were forged with TDF and ADF to become their main bank, and a collaborative agreement was formalised with SIDF to introduce the SIDF LC Programme to open Letters of Credit on behalf of clients, facilitating procurement and supporting Capex/business expansion needs under the payment guarantee of the SIDF. Corporate Banking continuously assessed and reached out to clients with potential to benefit from these partnerships.
Additionally, the Bank funded the National Housing Company (NHC) with SAR 2 Bn. to finance the development of new housing projects at the onset of 2021, and continued working with the PIF's new real estate subsidiary Roshn as part of its off-plan sales financing programme. 2021 also saw the Bank working closely with the Kingdom's General Entertainment Authority (GEA) to support the expanding sector's various entertainment activities and seasonal events, including Riyadh Season 2021, providing total payment solutions for the five-month cultural festival in the Saudi Capital. As one of the main banks to the Ministry of Human Resources and Social Development, a strong partnership was nurtured to support various programmes and strategic transformation initiatives carried out by the Ministry during the year.
Al Rajhi Bank continued to provide financing solutions for the National Housing Programme (NHP) in collaboration with the Ministry of Housing (MoH) during 2021. Assessing the capability of new developers in the market, the Bank focused on designing custom-built solutions for financing, and remains actively engaged with MoH/REDF in mortgage financing, as well as supporting various initiatives of the Kingdom's vision realisation programmes (VRP) – 13 initiatives including the Housing Programme designed to translate Vision 2030 into action.
The Bank also continued to finance instalment houses and non-banking financing companies focusing on micro and small enterprises to promote financial inclusion. During the year under review, the Bank participated in financing transactions for mixed-use real estate and commercial usage across key cities and regions in KSA, financing employer housing projects for a top public company, and developing Eirad financing solutions by utilising the Ejar platform.
Environmental, Social and Governance (ESG) considerations continue to evolve into a crucial aspect of financing. Most of these are addressed through our Structured Finance team focusing on financing projects supported by the government and VRP programmes. Al Rajhi Bank acted as Mandated Lead Arranger and Hedge Provider for the largest Solar Independent Power Plant in the world. The project is expected to power over 185,000 homes and offset nearly 2.9 million tonnes of greenhouse emissions annually. We also acted as Mandated Lead Arranger and Hedge Provider for a Greenfield Solar Plant project with potential capacity to generate 300MW of clean renewable energy.

Future outlook
The Corporate Banking Group of Al Rajhi aspires to be the 'Best Corporate Bank' in KSA in line with the BOTF strategy, with initiatives revolving around this theme to realise its ambition. Corporate Banking will continue to reorient and fast adapt to suit the operating environment, and will continue its growth by leveraging its strengths regardless of changing market dynamics.
The Bank will continue to collaborate with various government support programmes to finance clients in new emerging sectors such as tourism and entertainment, and will continue to finance various projects initiated/supported by the government through the Structured Finance team, enhancing infrastructure and real estate projects across the Kingdom.