In the five years leading up to 2021, Al Rajhi Bank delivered strong results from its successful ABCDE – Back to Basics strategy, which was designed to accelerate growth, establish a strong stake in digital banking, and strengthen the Bank's infrastructure, controls, and execution. The ABCDE strategy gave in-depth insight into the Bank's core capabilities, strengths and resources, allowing it to identify and monitor additional measures that helped in creating sustainable value for stakeholders; this improved the Bank's operations and contributed to doubling the share price in five years.
Amidst the robust growth of its retail banking franchise and market leading financial performance, Al Rajhi Bank too was impacted by the sudden constraints and restrictions resulting from the coronavirus pandemic, immediately followed by the global oil crisis in March 2020.
Whilst responding rapidly and prudently to immediate health, safety, regulatory and compliance changes, the Bank identified key challenges that needed to be urgently addressed in order to retain its market leadership position in KSA. These included the decline in the Saudi Arabian Interbank Offered Rate (SAIBOR), spelling out a clear decline in net interest margins and yield for Al Rajhi – a Bank funded predominantly by non-profit bearing deposits and nearly 79% of its operating income came from yield.
Another emerging challenge was the entry of non-traditional players to KSA's very attractive and growing financial services market, driving Al Rajhi to redefine its competition and address the threat of new entrants, new products and new services. A rapidly evolving regulatory environment is creating a level playing field for all market players as well as non-market participants, resulting in a number of opportunities as well as implications, leading to improved levels of data protection and cybersecurity. The continued impact of COVID-19 also remained a key challenge that the Bank needed to overcome.
In the face of such rapidly changing variables, new competition, growing regulations, and the Government's ambitious focus and implementation of Vision 2030 initiatives, Al Rajhi re-imagined its banking business model; integrating smart banking tools and technologies to enhance capabilities across the Bank as well as its subsidiaries, leveraging previously unexplored synergies, and identifying new opportunities. During the year under review, the Bank adopted a new strategy to address these identified challenges and guide it through the 2021-2023 planning period, enabling the Bank to effectively and efficiently realise its stated vision to become the 'Bank of the Future' (BOTF).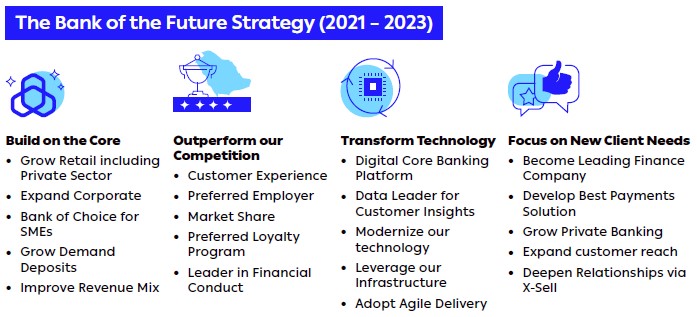 Build on the Core
The Bank continued to invest in and build its existing capabilities across Retail, Corporate, Micro and Small Business Banking to securely and sustainably grow its core franchise market share during the year under review.
In Retail Banking, the Bank retained its market leadership position in 2021 amidst strong price competition; mortgage, personal finance and auto finance segments recorded significant double-digit growth, the highest ever growth in the history of ARB. The growth of the Bank's mortgage portfolio by 63% year-on-year with a market share close to 41% in 2021 was a strong enabler of the Kingdom's Vision 2030 target of increasing Saudi Home Ownership to 70%.
In 2021, Al Rajhi captured new market share by expanding focus from the public sector to also include the private sector. This strategic effort also supported KSA's Vision 2030 objective for non-oil GDP growth, while doubling the Bank's private sector portfolio year-on-year in terms of asset growth. Strategic enhancements and exclusive privileges to the Bank's Affluent segment in 2021 also contributed to the increase in demand deposit market share, helping offset the reduction of interest rates.
Corporate Banking also experienced strong growth with a focused approach towards strong corporate portfolios with optimal capital structure to diversify its client base, adding over 100 new borrowing clients in 2021. The focused approach minimised non-performing loan (NPL) levels, maintaining a low cost of risk due to higher recoveries. Al Rajhi Bank's increase in market share of the corporate banking segment affirms the successful growth strategy of corporate banking for the year under review.
Additionally, the Bank revamped its SME Business for better alignment with KSA's Vision 2030 as well as the Bank's own mandate to become the 'Bank of Choice for SMEs'. New products including cash flow and balance sheet lending were introduced, supported by rigorous past due procedures and proactive monitoring, all contributing to an improved NPL ratio and a 43% financing growth year-on-year.
In order to further offset the yield impact, the Bank improved fee income as a percentage of operating income required to cover operating expenses. Controlled spend and disbursements with increase in transaction volumes as well as lowered structural costs and increased yield income led to the Bank's cost to income ratio forecasted to remain below 28% for the year under review – an outstanding achievement for a Bank of Al Rajhi's scale and distribution.

Outperform our Competition
In line with the BOTF strategy, the Bank set ambitious targets to lead and outperform its competition across focused areas covering customer experience, employee engagement as well as financial and regulatory conduct.
The Bank has heavily invested in enhancing its customer experience which began under the ABCDE – Back to Basics Strategy, and continued the momentum with the BOTF strategy during the year under review. Several key metrics were integrated to Management KPIs for monitoring customer behaviour, feedback and insight to improve and optimise the overall customer experience. This was further enhanced by accelerating the Bank's digital agenda and moving to cashless transactions, consciously transitioning away from physical channels and the physical handling of cash, and migrating customers on to seamlessly integrated digital channels and platforms. With Al Rajhi's cashless transactions nearing 80% of its total transactions during the year under review, the Bank remains true to the Kingdom's Vision 2030 target of 70% cashless transactions by 2030.
Attracting, retaining and developing the next level of talent continued to be a priority at Al Rajhi, where the Bank's people were continuously equipped with the necessary skill sets, capacity, development and incentives to meet the demands of a hybrid work environment. In line with the BOTF strategy to become a preferred employer, Al Rajhi Bank continued to invest in its people with a focus on building the right capabilities.
The ARB Academy - established as part of the previous strategy – advanced its highly coveted Graduate Development Programme (GDP) to include a Technology GDP in line with the BOTF strategy, employing and training the next generation of professionals in current and emerging technologies to build a strong, future-proof talent pool for the Bank. An attractive, positively challenging and nurturing work environment enabled the Bank to retain high potential employees and attract hard-to-find talent. The Bank is also one of the largest employers of females in the country, and continued to improve numbers by expanding into the female talent pool by enabling effective work-from-home initiatives.
The evolved work environment was also complemented by enhanced digital capabilities during the year under review that allowed Al Rajhi employees to efficiently and effectively engage with the Bank's Human Resource function while utilising improved self-service options, which has contributed to greater levels of employee satisfaction and productivity. A cultural shift continues across the Bank in terms of mindset, work ethic and accountability that powered a collective effort to drive the business through a challenging period.
Al Rajhi Bank enhanced its Mokafaa loyalty programme as part of the BOTF strategy, focusing on offering members an unparalleled, market leading loyalty experience with higher perceived value, enhancing customer give-back ratio through a rich, diversified and expanding partner network. A new loyalty management system powered by data analytics enabled the Bank to analyse and swiftly respond to specific customer behaviours, successfully expanding its membership during the year under review, and reaching top-of-mind-recall in the KSA banking sector as measured by a third-party brand health tracking survey.
In terms of financial and regulatory conduct, the Bank wished to develop, leverage and encourage sustainable financial and regulatory behaviours to influence the market and create value across all stakeholder groups. The Bank embraced the implications of regulatory changes that were taking place during the year under review, following the expedited digitisation that resulted from the COVID-19 pandemic.
Al Rajhi proactively worked on equipping the Bank to meet the demands of the new open banking framework SAMA aims to launch in 2022. The initiative aims to enable customers to securely share their data with third parties, creating new market opportunities for new financial services and service providers. Al Rajhi continues to maintain complete compliance with SAMA as well as the National Cybersecurity Authority (NCA) on regulations and directives concerning cybersecurity, data protection and electronic interbank fund transfers.

Transform Technology
Al Rajhi Bank continued its focus on modernising technology under the BOTF strategy, demonstrating leadership in digitalisation, data-driven insights and agile working. Consumers increasingly turned to digital options across all areas of their day-to-day lives, thereby demanding the same level of ease and convenience from the Bank of their choice. As a Bank that was already ahead of its competition in terms of pre-pandemic digital adoption, not only was Al Rajhi ready to deliver on the sudden and urgent shift to digital, the Bank was also able to enjoy dividends on the technology infrastructure investments it had continued to make over the past few years.
The Bank's strategy focused on delivering the best digital bank value proposition in the market, leveraging its technological capabilities across a wide range of stakeholder groups. This was supported by digital-ready platforms that are responsive, scalable, and aligned with business strategy as well as demands and trends of the market. Over 90% of current accounts at Al Rajhi were opened via digital channels during the year under review, giving an indication of the Bank's alignment with the market's future direction.
Technology adoption also supported Al Rajhi's work from home strategy; strong digital infrastructure allowed the Bank to explore low cost locations with high levels of resourcing against a global backdrop of rising operating costs, further improving its cost to income ratio.
Other key technology initiatives rolled out as part of the BOTF strategy include major upgrades to Al Rajhi's mobile banking ecosystem that currently consists of the best-rated retail and business banking mobile apps in the Kingdom. This included the installation of an offline data vault in Jeddah, a second Cyber Recovery Site (CRS) to protect against cyber-attacks, and an automated testing and deployment process upgrade to the Bank's internal Application Programming Interface (API) Factory in order to enhance time to market. These investments resulted in a superior level of integration across Bank subsidiaries, merchants, external partners and the overall Bank ecosystem.

Focus on New Client Needs
The Bank expanded into key growth areas such as microfinancing, payments and wealth management, exploring new opportunities and penetrating new market segments while also deepening existing customer relationships by cross-selling financial solutions. Expanding along its traditional core banking verticals to fulfil more customer needs was a low risk option for the Bank based on its strong natural assets of balance sheet, distribution, industry repute and visionary leadership.
The Treasury Group successfully diversified into a wide range of higher yielding asset classes, and optimised its portfolio to grow market share in customer offerings under the BOTF strategy. A wide range of Shariah compliant asset classes expanded the Treasury Group portfolio, with multiple structured products, hedging solutions and foreign exchange products introduced for the first time in the history of Al Rajhi Bank to both individual and commercial clients.
One of the BOTF strategy's greatest successes comes from the Bank's response to the changing needs of the consumer finance market with the launch of Emkan Finance – a lending company focused on growing the lending customer base into segments previously inaccessible to the Bank. Offering extended credit to customers with specific credit needs over and above what the Bank offers, Emkan grew its portfolio to SAR 6.8 Bn. by the end of 2021. A revamped Micro and Small Business (MSB) banking unit targeted businesses running on cash flows as collateral. The Bank's identification of these two untapped market segments during the year under review saw an increase of yield and arrested the decline of Al Rajhi's spreads, one of its key challenges in 2021.
As one of the Kingdom's leading payment solutions providers, Al Rajhi Bank swiftly addressed the challenge of fintechs and new entrants to the payments market by establishing Neoleap – an end-to-end digital payments solutions for customers, further strengthening the Bank's position in the Kingdom's growing digital transaction ecosystem. Complete with digital wallet, payment gateway, point of sale (POS), third-party service integration and much more, Neoleap further highlighted the beneficial synergies within the Bank's subsidiaries and capabilities to effectively and successfully compete against new entrants and fintechs in a rapidly evolving Saudi market.
As the BOTF strategy continues to unfold, the Bank has rebranded itself as a relevant, sophisticated and future ready group operation moving away from the traditional banking structure. The BOTF strategy has a range of initiatives that will equip the Bank to respond to potential market changes as well as unforeseen disruptions effectively, with the overarching objective of maximising the synergies across Al Rajhi Bank and its subsidiaries as a collective of financial solutions that create value for all stakeholders.