GRI 102-2
Retail Banking Group
A reviving, competitive landscape
Being the largest Retail lender in the Kingdom, Al Rajhi Bank faced stiff competition from fintechs, disruptive technologies and changing business models during the year under review. The impact was felt primarily in personal finance, which although effectively countered by periodic and tactical campaigns to retain and gain customers, added additional stress to product margins. With new digital players entering the market, speed of delivery and a seamless customer experience became crucial factors when migrating the customer base from physical to digital channels.
Understanding affluent customer behaviour as well as their expectation in terms of relationship and products the Bank can offer was also a key challenge. With a stronger tendency to bank with multiple financial institutions, the affluent market segment also showed interest in new technologies and digital banking, a highly competitive aspect across the current banking landscape.
Maintaining market leadership
In 2021, Retail Banking implemented strategies to sustain the Bank's leadership position in the areas of personal finance, auto finance and mortgage. For personal and auto finance, two key enablers increased market share during the year; digital migration and data insights. Digital migration extended the vision of the Bank to offer a seamless omni-channel financing experience to customers. Leveraging the latest technologies in data insights and Artificial Intelligence (AI) allowed the Retail Banking segment to improve its product offering, customer experience and cross sell activities. This enabled the Bank to retain key clientele, while also engaging with and acquiring a significant portion of non-bank customers, increasing its customer base as well as consolidating its portfolio and market share positions. The Bank dominated both personal and auto finance markets with market shares of 44.6% and 51.8% respectively.
2021 marked the Bank's successful conclusion of its key partnership with the Ministry of Housing including the strategic engagement with Roshn – the real estate subsidiary of the Public Investment Fund – to increase home ownership of Saudi Nationals. Having launched a number of products in collaboration with the Real Estate Development Fund (REDF) the previous year in line with Vision 2030, the Bank focused on further reinforcing its position in 2021 as a leader in real estate financing by expanding its non-REDF product portfolio, securing a mortgage market share of 41% for the year under review.
The Corporate and Remittance business functions continued to be integrated into existing physical Retail Banking branch locations as part of the Bank's continued efforts in resource optimisation.
Growing non-conventional customer segments
Retail Banking strategically focused on increasing its customer base across the Kingdom's private sector during 2021, recording a year-on-year growth rate exceeding 200%. The Bank improved its retail position within this key segment with an 86% increase in the private sector portfolio.
The Bank's Affluent offering underwent key strategic enhancements during the year to introduce advanced and exclusive services to meet customer expectations. A number of new initiatives were carried out for Affluent customers including the introduction of the new Diamond tier with a dedicated Relationship Manager among other exclusive privileges. Affluent lounges across the Al Rajhi Bank branch network were also assigned Relationship Managers in new comprehensive roles with progressive responsibilities to meet client needs. Other new financing programmes and banking privileges for Affluent clients also continued to be developed throughout the year.
Credit card developments
The Bank continued to focus on card products and innovative value propositions in 2021; the Digital Card Cashback offering rewarding cashback rates for both domestic and international spend was introduced during the year under review. The card loyalty programme was revamped to offer best-in-class loyalty earning rates in the Kingdom to reward and retain customers, becoming their preferred card and nurturing lifetime loyalty.
Additionally, the credit card value proposition was revamped and upgraded for two Affluent tiers with special partnerships, promotions and privileges. The Bank retained its market share leadership position in the card business during the year.
Digital and technological advances
Introducing financing solutions through the Telesales channel while addressing restrictions during the peak of the pandemic also enabled the Bank to bolster its digital banking solutions, while continuing to serve its customers efficiently with no physical visits to the Bank. During the year under review, the Bank successfully migrated and expanded the availability of its entire Personal Finance product suite online, offering customers an end-to-end digital financing journey. Additionally, Auto Finance was also introduced on both Telesales and Digital App, with a number of acquisitions piloted through digital channels. A few other digital initiatives implemented by the Bank included the automation of current account operations, and upgrades to the Bank mobile app to include advanced options such as the ability to issue credit and debit cards. Over 35% of the Bank's personal financing executions were performed digitally end-to-end.
Retail Banking focused on improving customer experience and reducing turnaround time (TAT) by utilising digital tools and enhancing back-end operations. The Bank invested in technology offerings such as advanced analytics; a data-driven rapid decision making engine became part of the Bank-wide focus aiming to empower sales channels, improve financing TAT and optimise customer experience given rapidly evolving market trends.
In 2021, the Bank continued to install the latest, state-of-the-art ATMs in new and renovated branches. With over 1,200 deposit ATMs installed across the Kingdom to ensure high availability and customer satisfaction, the Bank secured its ownership to the largest deposit teller network in the Kingdom. Al Rajhi also extended its ATM network with the contactless Atheer feature for withdrawals to be made securely through Near Field Communication (NFC) technology, becoming the largest NFC ATM network and the first bank to accept all types of mada Atheer cards.
Al Rajhi Bank introduced ASRAA – the first self-servicing kiosk providing a multitude of banking operations and transactions – as part of the bank's strategy to set the benchmark as market leader in innovative and advanced self-service functionality. With more than 410 machines installed, the Bank has the largest network of ASRAA kiosks with the richest functionality across the Kingdom, including features such as chequebook and debit card printing as well as draft issuance.
New banking products
Simultaneous to its digital expansion, the Bank introduced a number of new products and services; Auto Finance saw the introduction of Pre-owned Car Leasing and the 50:50 Programme added to its line-up during the year, while the Low Income programme and Non-Salary Transfer (NST) for Non-approved Employers Programme were launched to promote financial inclusion for underserved and disadvantaged segments. The Bank also optimised its credit policy parameters to maintain competitiveness vis-à-vis the market.
The Bank introduced the Future Account for existing current account holders in 2021, and a savings plan account in accordance with Islamic Shariah. Enhancements were carried out in Savings and Protection that resulted in a massive 383% growth, catapulting the Bank to no.1 in market share position. Minors above the age of 15 were allowed to open accounts under the supervision of a guardian. A new auditing feature 'Natheer and Tahqoq' was introduced to a number of accounts. Expanding on its non-REDF offering, The Bank launched Mortgage Top-up and Buyout programmes. Affluent clientele were introduced to Erad, a new financing product.
Our efforts were acknowledged and recognised at the Global Banking & Finance Awards® 2021 with Al Rajhi awarded Best Retail Bank GCC 2021 and Best Digital Bank KSA 2021 among other accolades. During the year under review, the Bank's net promoter score (NPS) reached 72%, a significant increase of seven points.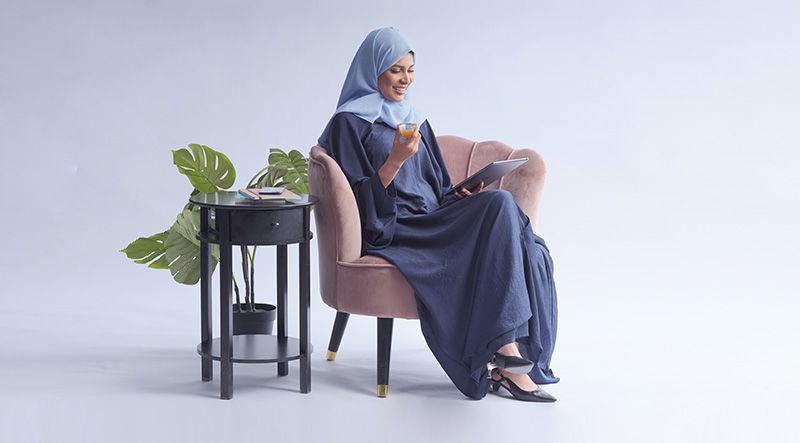 Future outlook
In line with its BOTF strategy, the Bank will continue to build its retail portfolio with focus on market share, additional income generation opportunities, greater customer engagement, aggressive digital adoption and efficiency in sales channel productivity. For products, the focus will shift to target and grow non-conventional segments such as Non-Salary Transfer, Average Balance and Self-Employed.
On the technology front, Retail Banking expects two key enablers to further streamline the financing journey and experience. First, the reinforcement of the rapid decision-making engine to respond to evolving market changes, and second, upgrading and migration of Al Rajhi Bank financing platform from its legacy system to new Loan Origination System (LOS).
The Bank is set to realise more profit improvements as cost savings become visible in run rates, and from a rebound to growing economies – in a more stable 2022. It will be a year to remain alert, and continue to accelerate the Bank's transformation agenda.