Following a turbulent year that saw a massive shift in customer expectation and spending habits, banking customers have been re-examining their financial resilience, as well as their relationship with financial institutions. In such a landscape, Al Rajhi Bank (ARB) was presented with the opportunity to differentiate itself from other financial institutions and improve customer interactions across businesses via digital as well as conventional channels, thereby generating insights and utilising them to nurture a culture of innovation centred around a superior customer experience.
The development of its digital services at various levels across the Bank's operations to improve customer engagement contributed to Al Rajhi outperforming its competition with the top Net Promoter Score (NPS) in the Kingdom, complemented by the leading NPS score in digital banking.
During the year under review, the Marketing Team contributed to the overarching Bank of the Future strategy, maintaining the Bank's repute as a leading brand for choice customer experience, and a benchmark for digital banking in the Kingdom that empowers its customers to be in control of their financial decisions and transactions in an on-demand, self-service world.
The Bank's identity re-imagined
In line with its BOTF Strategy, the year under review saw the Bank striving for excellence in customer interaction; from accessibility across all customer touchpoints to customisability and data-driven targeting, the Bank understood the urgency to deliver exceptional experiences that are 'beyond imagination' to customers. In 2021, following an 18-month long strategic re-branding exercise, ARB launched its new brand identity entitled "unbank the bank", transitioning from being a bank focused on providing products and services, to a financial ecosystem offering smart financial solutions, led by expert financial advisors.
The brand idea to "unbank the bank" was directly aimed at reducing the power distance typically associated between banks and customers, and position the Bank as a financial coach who understands and empowers the customer to embrace opportunities and make financial decisions with confidence. The Bank therefore had to be more approachable and easily accessible with less complex products and services, and connect and engage more with the customer.
The new Bank identity is based on three core values:
Prosperity where passion is infused into business using the latest technologies that motivate customers to adopt new opportunities
Ease with which the Bank provides easy and quick solutions to help customers make the best decisions with full confidence
Value where the Bank understand the needs and encourages building relationships to solidify strong and solid bonds with partners
Preserving the essence of its identity anchored to a 60-year heritage associated with success, development and leadership in banking, the Bank developed a new logo with sharper corners and smooth curves to portray ease and flexibility as well as the Bank's new power balance with the customer. The emblem outline was removed to represent the Bank's limitless potential 'beyond imagination' and beyond the bounds of convention. The colour was slightly modified from dark to neon blue, signifying innovation, advancement and a frictionless shift from old to new.
All account segments were consolidated under one umbrella for the general masses to create a more unified brand experience, product names were changed to reflect clarity of product purpose, and channel names were rebranded to appeal to the modern digital consumer as well as corporates and high net worth individuals. The new bank identity and rebranding was extremely well received by the general public and mass media, with stellar internal and external stakeholder feedback, underpinning the potential to influence perceived service quality, customer satisfaction and customer loyalty.
Brand positioning
Along with the rebranding, the Marketing Team ensured that the Bank also shifted from formal and rigid communication in favour of a more familiar, sincere and emotion-driven brand voice with increased transparency; less consultative and more collaborative. The Bank continued to introduce financial solutions built with the customer at the core, nurturing relationships built on shared values, and customer experiences that were highly personalised. These initiatives have strengthened the Bank's market-leading position with a 10% increase in the brand power score index.
Mastering the mix of marketing media
During 2020, the pandemic accelerated the Bank's digital transformation journey, which enabled the Marketing Team to reinforce its marketing strategy on the Bank's rapidly evolving digital services during 2021. By focusing their efforts on digital channels, the Marketing Team was able to leverage available data for more accurate profiling, predicting and targeted campaigns, enabling the team to monitor and funnel digital traffic to optimise the customer's digital journey. Other initiatives implemented to optimise the customer experience during 2021 included:
Implementing Voice of Customer methodology to understand customer pain points, collect feedback and capture how customers feel about the Bank
Carried out thorough market research to ensure the Bank meets customer expectations by introducing benchmarked financial solutions on a single platform in a competitive landscape
Engaging with internal divisions of the Bank i.e. Corporate, Retail, Digital, Operations, SME Business and other business units, to seamlessly enhance customer experience through a culture of continuous improvement
Shifting to online channels post-pandemic, customers were constantly looking for engagement and value-adding communication online at a much higher frequency. In a competitive hybrid marketing landscape, customer decisions continued to be driven by responsiveness and faster turnaround times. Due to this factor, marketing campaigns for the year under review were planned, developed and executed largely across digital channels with a 'Download Now' or similar immediate call to action. Digitally driven campaigns included:
Personal Finance Weekend Offer
0 Fees and SAR 5 Cashback
Cashback Card
Financing Month among other campaigns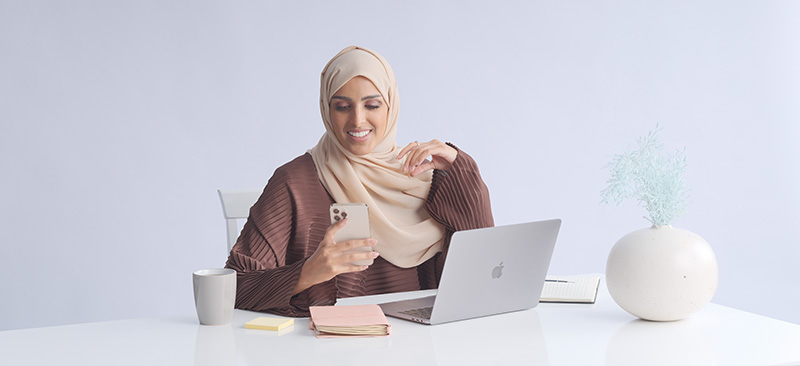 Social Media Strategy
Social media for Al Rajhi has evolved from primarily a social tool in 2015 at the onset of the Bank's digital marketing journey, to an important and necessary medium for building customer relationships and personalising customer experiences. Today, Al Rajhi Bank has one of the largest groups of followers on social media – not just within the Kingdom but globally.
With digital and social media habits formed during the pandemic enduring well beyond it, the Bank's social media channels further cemented their position as a key part of the customer's omnichannel experience in 2021. As customer engagement across social media increased during the year under review, the Marketing Team moved from traditional content generation to a lot more lifestyle, educational, engaging and value-adding content for digitally active customers. This also augmented customer touchpoints for the Bank, with the personal nature of social media nurturing stronger relationships and loyalty among customers. The Marketing Team continued to utilise all additional data sources across social media channels, analysing and filtering data to define customer personas and profiles for targeted ads via event-based push notifications, geo-targeting, geo-fencing, etc., meeting the demand for highly personalised content.
Beyond social media channels, the Marketing Team also continued to leverage the Bank's existing database as well as other web-based media platforms and device-generated data, monitoring and analysing customer behaviour across multiple touchpoints to offer customised offerings as well as retarget campaigns and content with great accuracy.
Preferred loyalty programme in the Kingdom
In line with the BOTF Strategy objective to nurture the most preferred banking loyalty programme in the Kingdom, Al Rajhi Bank enhanced its Mokafaa loyalty programme to provide an increasingly rich and rewarding experience to its loyal customers. Registered members were able to earn more Mokafaa loyalty points by utilising a wider range of ARB products and services, with a growing variety of redeeming options including points transfer to friends and family as well as donations to charitable causes across KSA.
Mokafaa was expanded into a bank-wide programme with members able to earn loyalty points across the Al Rajhi portfolio including SADAD, Marketplace, Tahweel etc. The programme focused on offering its valued members an unparalleled loyalty experience with higher perceived value, doubling customer give-back ratio through a rich, diversified partner network. During the year under review, Mokafaa added over 100 more brands to its partner network, with seamless in-store redemption.
These significant improvements were enabled via a loyalty ecosystem that was fully upgraded during the year under review; the Bank implemented a new loyalty management system powered by data analytics, allowing the Bank to analyse and swiftly respond to specific customer behaviours. User experience was further elevated through a new and improved look and feel to the Mokafaa online portal, with added mobile functionalities such as one-click enrolment on the Bank's mobile app with a dedicated loyalty section for members to view their profile, points and loyalty benefits.
The Bank complemented the loyalty programme upgrade with a dedicated marketing campaign running across the Bank's social media channels, newsletters and customer engagement points both online as well as across 500+ Al Rajhi retail branches across the Kingdom. A targeted promotion was also carried out for Al Rajhi Mortgage customers featuring over 50 collective discounts up to 30% by electronics, building material, lifestyle and other relative partner merchants.
Such focused, strategic loyalty initiatives ensured the Bank made significant progress in engaging its valued customer base, leading to a staggering 500% increase in the number of active members across the loyalty programme during the year under review, with a 700% increase in the number of loyalty redemptions. Over 1 million new members joined the loyalty programme in 2021, surpassing 3.5 million in total memberships, while a third-party brand health tracking (BHT) survey conducted towards the end of the year showed Mokafaa as the top-of-mind loyalty brand in the KSA banking sector.

Future outlook
The Marketing Team continues to explore emerging technologies for marketing automation across multiple platforms and systems, generating more consistent and personalised customer engagement by utilising data and customer insights to be the leading bank in customer experience. This is further strengthened by the Team's focused efforts to retain the new found status of Mokafaa as the Kingdom's preferred loyalty programme, both initiatives contributing to a key pillar of the Bank's BOTF strategy – to outperform market competition.