GRI 102-9, 204-1, 203-1, 302-4, 303-3, 305-3
ESG highlights
The Bank's approach to ESG
Al Rajhi Bank is dedicated to growing its reputation as a well-managed, well-disciplined financial institution exercising sound governance practices that focus on financial intermediation and maturity transformation, two essential activities required for the economic development and prosperity of the Kingdom.
The Bank has remained committed to providing Sharia-compliant banking services for the past five decades; Sharia-led Islamic finance has much in common with environmental, social, and governance (ESG) considerations and the broader aim of sustainable finance. Al Rajhi Bank does not participate in any investments that fail to meet Sharia guidelines – including alcohol, gambling and tobacco products. With zero exposure to such industries, the Bank remains protected from sectors that are at 'high risk' of failing to meet ESG criteria. Through Sharia guidelines, the bank performs a culturally distinct form of ethical investing.
During the year under review, Al Rajhi Bank employed the services of a globally leading pure play sustainability consultant to evaluate the Bank's existing overall ESG performance as well as ESG Disclosure against local and global peer benchmarks. This enabled the Bank to identify critical areas for improvement in ESG Strategy and reporting standards. Based on these preliminary findings, the Bank followed up with an evaluation of its approach to materiality, which provided the Bank with a number of immediate to long-term opportunities to identify well-defined, focused topics to create value across the ESG landscape.
These key findings laid a strong foundation for the Bank's ESG steering committee to develop a comprehensive and all-encompassing ESG Strategy that aligns the Bank's ESG efforts with its Bank of the Future (BOTF) Strategy, The Kingdom's Vision 2030 and the United Nations SDGs. At a national level, the Kingdom and the financial services industry prioritised financial inclusion during the year under review to support Vision 2030, with access to financial services as the Kingdom aims to develop a diversified and effective financial sector to support the development of the national economy, diversify its sources of income, and stimulate savings, finances and investments. This included the integration of ESG factors into corporate financing decisions, and the growth of female participation in the workforce. Al Rajhi Bank's ESG Strategy – now in its final stage of completion – will build on the Bank's experience and expertise across these newly identified ESG areas of focus with ambitious KPIs, goals and objectives.
The Bank sought internal stakeholder input in ESG-related decision-making, planning, monitoring and activities by facilitating multiple meetings with a cross-section of senior executives representing different departments across the Bank. These engagements enabled the Bank to obtain views and feedback from internal stakeholders on specific ESG topics and the Bank's overall ESG standing and contributed in the development of the Bank's new ESG strategy.
ESG management and disclosure
At present, the Bank provides key ESG-related updates to relevant stakeholders on quarterly basis through the earning call and quarterly investor presentations. For the year under review, Al Rajhi Bank's consolidated ESG Report has been prepared in accordance with the Saudi Exchange ESG Disclosure Guidelines (www.sseinitiative.org) issued by the Saudi Exchange following its voluntary commitment to promote sustainable and transparent capital markets by becoming a Partner Stock Exchange of the United Nations Sustainable Stock Exchanges (SSE) initiative.
The SSE initiative is a UN Partnership Programme organised by the United Nations Conference on Trade and Development (UNCTAD), the UN Global Compact, the United Nations Environment Programme Finance Initiative (UNEP FI) and the UN-supported Principles for Responsible Investment (PRI). The SSE's mission is to provide a global platform for exploring how exchanges in collaboration with investors, companies, regulators, policymakers and relevant international organisations can enhance performance on ESG issues and encourage sustainable investment, including the financing of the UN Sustainable Development Goals.
ENVIRONMENTAL
Accounting for indirect emissions is a relatively new activity for financial institutions given the nature of financial products and the operational model of the Banking sector, but by understanding its role and the increasing urgency to be accountable, Al Rajhi Bank remains committed to reducing its footprint across its operations and product portfolio, contributing to protect the planet while rebuilding a thriving local economy.
Climate change
The Bank remains committed above all else to make its own operations achieve net zero through continuous initiatives to decrease both direct and indirect carbon emissions. Tuder Real Estate – the real estate, property and facility management arm of the Bank focused on power and energy management during the year under review, applying clean technologies and layouts during the rebranding of the Bank's branch network in 2021, including power saving systems to reduce utility consumption. Tuder renovated 20 branches, relocated 14 outlets and opened 15 newly designed and branded branches to the public, carefully considering natural lighting and other energy efficiencies to reduce the operational carbon footprint across its owned and controlled branch network.
Al Rajhi Bank continued its own carbon-free, renewable energy sourcing by continuing solar installations across its branch network, with three more branches now equipped with solar panels during the year under review, bringing the total number of solar-powered branches to four in 2021.
Additionally, the Bank implemented a Building Management System (BMS) to promote energy conservation at its headquarters, which is also certified with the ISO Green Standard to affirm its commitment to conform to established environmental policies and requirements, as well as to reduce and adapt to climate change among other corporate responsibilities towards the environment.
Al Rajhi Bank has incorporated environmental risk as a key evaluation criterion in its overall approval process to finance a project or business. The bank actively engages with firms such as Wood Group UK Limited, WSP, 5 Capitals and others for assessment of projects from environmental and social perspectives, and ensures all projects meet internationally recognised guidelines such as Equator Principles and Green Loan Principles.
Natural resources
The evolving nature of the Bank's operation and its shift to digital platforms in a post-pandemic world has resulted in controlled and contained use of land and property for its operation, with minimal to zero impact on biodiversity across all locations of its operation. While the Banking function is not water intensive, Al Rajhi Bank remains vigilant of its management as well as consumption of water and energy, and has introduced a number of facilities and technologies such as sensor-controlled smart taps and rationalised use of electricity across all branches and subsidiaries.
Pollutions and waste
In terms of waste generation, Al Rajhi Bank follows strict recycling guidelines across its entire branch and subsidiary network, especially instigating initiatives for paper use reduction, paper waste collection and recycling. The Bank follows a rigid process derived from global best practices for electronic waste, ensuring data security by performing a complete wipe of confidential data on any hard drives or other storage devices, followed by material recovery of reusable e-waste as spare parts, and unusable e-waste redirected for final disposal to relevant third parties.
Environmental opportunities
The Bank is cognisant of the growing concerns around climate change globally and is keen to ensure that it plays a key role as a financier in managing and mitigating potential environmental risks, leading the financing initiatives of renewable energy opportunities across the Kingdom. Al Rajhi Bank has been a key enabler of the National Renewable Energy Programme implemented by the Renewable Energy Project Development Office (REPDO), participating in the financing of solar projects based on recently issued Green Loan Principles.
The Bank's Structured Finance team assesses financing projects supported by the government through its Vision Realisation Programmes (VRP) initiated to support Saudi Vision 2030. During the year under review, Al Rajhi Bank acted as Mandated Lead Arranger and Hedge Provider for the largest Solar Independent Power Plant in the world. The project is expected to power over 185,000 homes and offset nearly 2.9 million tonnes of greenhouse emissions annually. The Bank also acted as Mandated Lead Arranger and Hedge Provider for a Greenfield Solar Plant project with potential capacity to generate 300MW of clean renewable energy.
| | | | |
| --- | --- | --- | --- |
| Project Name | Description | Closing Year | Status |
| REPDO 2 Rabigh PV IPP | Solar PV Power Capacity of 300 MW | 2021 | Deal Closed |
| Sudair Solar IPP | Largest Solar Independent Power Plant in the world in 2021, which will produce 1.5 GW of clean renewable energy. | 2021 | Deal Closed |
Key renewable energy financing projects closed during the reporting year
During the year under review, the Bank provided SAR 2.6 Bn. in financing to renewable power generation and clean energy projects, and further committed over SAR 900 Mn. to finance similar projects that are expected to close in 2022. The Bank continues to identify financing opportunities in the clean energy space across the Kingdom in line with Vision 2030 initiatives, with a healthy pipeline of renewable energy projects to be signed and closed in the coming years, including the SAR 18.8 Bn., 4 gigawatt green ammonia plant that is set to make Saudi Arabia in the global 'carbon-free' hydrogen market. Internally, Tuder continues to explore new clean energy opportunities to install across all Al Rajhi Bank locations.

SOCIAL
As one of the world's leading Islamic Banks, Al Rajhi Bank's approach to Social sustainability is to further nurture the relationships it has built over the years with all its stakeholders; from those who work and those who bank at Al Rajhi Bank, to the communities the Bank serves and operates in.
Human capital
Labour management
The Bank follows all relevant Saudi labour laws and regulations, and carefully assesses the annual Employee Engagement survey results and feedback received from employees to develop action plans that address areas highlighted for further improvement. The action plan implementation is periodically reviewed by the People Council, which was established in 2020 with an intent to encourage greater engagement and ownership from the C-Level and leadership teams on people and talent development practices.Effective and proactive actions taken resulted in an increased Employee Engagement Index score of 71% in 2021.
In addition, it is mandatory for all employees to familiarise themselves with the Al Rajhi Bank code of conduct annually. The Code of Conduct covers topics including but not limited to:
Human rights
Discrimination
Fair dealing
Anti-bribery
Fraud, embezzlement, theft, money laundering, financing terrorism, and insider trading
Harassment or Extortion
Unethical behaviour of any colleague(s) such as breach of honesty and integrity
Whistle-Blowing policy
Health and safety
The Bank's branch and subsidiary network implements and maintains the highest standards of occupational health and safety standards:
Firefighting systems
Emergency exit systems
Continuous awareness of risks
Periodic testing procedures
Implementation of the requirements of the Ministry of Health in relation to the (COVID-19) including temperature monitoring, sanitiser accessibility and mask requirements
During the year under review, the Bank's Human Resource division launched an open health day at all Head Office locations to encourage and create awareness on all round health and wellbeing of employees. A Breast Cancer Awareness event was also conducted at the Head Office ladies' division to promote effective screening practices and risk assessment for early detection.
Human capital development
The Bank follows a structured talent management and succession practice with individual development plans, further strengthened by a market and performance driven compensation strategy. The Al Rajhi Academy delivers best in class leadership, banking, operational and technology certifications to nurture a talent pool with required skills and knowledge to perform emerging and evolving job roles effectively. (Refer to the HR section on pages 90-102 for more details).
Supply chain labour standard
The Online Procurement Portal launched in 2020 greatly contributes to promoting supplier diversity and fairness in a highly competitive purchasing landscape in the Kingdom, and enhances the transparency as well as efficiencies in the procurement of products and services for the Bank. The Bank encouraged and invited SME Businesses that bank with Al Rajhi Bank to register as suppliers in its mandate to prioritise local suppliers in purchasing decisions; 92% of the procurement of products and services were channelled to Saudi vendors in 2021.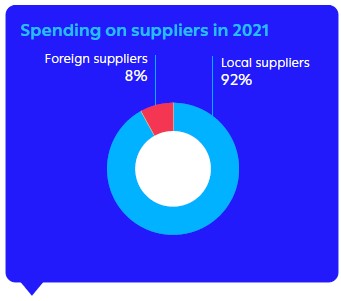 As part of the Bank's initiative on female empowerment, fully and partially female owned businesses were approached to register on the Procurement Portal, resulting in 32% of the total local businesses onboarded in 2021 being female-owned, increasing the total female-owned supplier percentage to 7.5%.
| | | | | |
| --- | --- | --- | --- | --- |
| | 2021 | 2020 | 2019 | 2018 |
| Total number of suppliers engaged | 384 | 335 | 332 | 358 |
| Total procurement spending (SAR Bn.) | 3.7 | 3.1 | 3.1 | 2.5 |
| Total number of local suppliers engaged | 285 | 263 | 261 | 300 |
| Procurement spending on local suppliers (SAR Bn.) | 3.4 | 2.9 | 2.9 | 2.3 |
| Percentage of spending on local suppliers (%) | 92 | 93 | 92 | 93 |
| Total number of female-owned suppliers engaged* | 101 | 94 | 94 | 30 |
*Certain suppliers are partially owned by females based on the 'Memorandum of Association'
Product liability
Privacy and data security
During the year under review, the Bank enhanced its Privacy Policy; specific classifications were rephrased in order to eliminate any ambiguity in response to the latest regulatory changes across the Kingdom that aimed to elevate and protect the privacy of all customers. Al Rajhi Bank has clarified in detailed description the classification of personal data, with more transparency to how it is collected, stored, processed, used, protected and disclosed as per the requirement of the Kingdom.
There was a new set of considerable risks with the emergence of a hybrid work environment where employees were working from home while certain Banking functions were carried out on-premise. By rapidly and successfully adapting to this new environment, the Bank enabled business continuity through functions that were previously never performed remotely, simultaneously introducing new risks that needed to be immediately addressed.
Through changes made to the Business Continuity Strategy, parallel operations of critical business processes were carried out from multiple, remote locations in adherence to social distancing and safety regulations, whilst also introducing, encouraging and adopting new, third-party technologies that increased work efficiencies. The Business Continuity Management Team continued its COVID-19 response and process adaptation during the year under review, liaising with different business groups to define the framework for remote working conditions, and with employees to ensure such conditions were pragmatic and feasible. The Team coordinated with IT and information Security teams to ensure an appropriate level of support was provided to business users, reporting to senior leadership on the progress of operations.
The Business Continuity Management Team also continued to monitor relevant Government organisations and financial authorities for regulatory updates and operational instructions, collaborating with internal support functions to ensure business continuity challenges were adequately and proactively addressed. The team will continue to work closely with all business groups to monitor their needs and ensure their readiness to manage any unprecedented events in future.
The rapid and successful adoption of the above initiatives and strategies increased the overall organisational resiliency of Al Rajhi Bank, while also increasing the confidence in the Bank's capabilities in both internal and external stakeholders.
Social opportunities
Access to finance
Al Rajhi Bank has the largest network distribution in the Kingdom and the Middle East region, supported by 521 branches, 207 remittance centres, 4,891 ATMs and 326,121 Point of Sale (POS) terminals to service customers and provide equal access to financial services. This widespread network of access points has resulted in Al Rajhi Bank claiming some of the largest active customer bases in the region, with over 12 million total active customers. The rapid adoption and scalability of digital infrastructure has also greatly contributed to improving financial inclusion across all demographics including underserved remote areas, with 9.7 million digitally-active customers benefitting from fully digitised Al Rajhi Bank products. The Bank also remains the largest mortgage provider in the Kingdom with a 40% mortgage market share, supporting Vision 2030 in its mission to increase home ownership of Saudi nationals.
Al Rajhi Bank continues to promote financial inclusion with all branches equipped to serve persons with disabilities, and was the first bank in the region to launch ATMs with disability access. In 2021, the Bank upgraded 5 branches ATMs with technologies such as voice assistance and sign language to support the blind and visually impaired, the deaf and hard-of-hearing, as well as persons with mobility impairment, aligning with the Saudi Vision 2030 objective of supporting the disabled with tools and facilities to become more independent and be integrated into society. Majority of Al Rajhi Bank branches have reserved disabled parking spaces with all of branches is ready to serve customers with disabilities.
During 2021, the Bank invested in powering the frontline to service the customers, implemented a Voice of Customer unit to address identified pain points. In addition, a new branding initiative during 2021 saw the Bank re-position itself as a financial coach that understands and empowers the customer to embrace new financial opportunities, and embrace new financial decisions with confidence. Al Rajhi's long-established repute of integrity and transparency with its customers contributed in maintaining its position as 'First Choice' Bank with acknowledged leadership across personal finance, mortgage, auto and credit card services, with the top position in NPS, CSAT and CES in both traditional and mobile banking.
Access to healthcare
Al Rajhi Bank has continued to invest heavily in healthcare initiatives through its focused approach to corporate social responsibility (CSR), with a number of projects being carried out by the Bank during the year under review. The health sector is the most partnered sector for the Bank's CSR initiatives, with several medical centres built under the Banks' name in several regions, while working with the Ministry of Health to donate and contribute towards medical treatment for the underprivileged and at the expense of the bank in addition to donations to the independent civil Health Endowment Fund.
Other focus areas for the Bank's CSR projects include education and capacity development, as well as the identification and engagement of neglected or under-represented segments of the society.
Key CSR projects carried out during the year under review:
Signing of community partnership agreement with the Health Endowment Fund to finance the purchase of 1,100 wheelchairs donated by the Bank for the benefit of the Ministry of Health hospitals.
Distributing 'Winter Gift' package in eight regions for the fifth consecutive year.
Launching "We Can See You With Our Hearts" initiative on White Cane Safety Day across Riyadh, Jeddah and Qassim, with the employees of the three city branches volunteering to visit the blind, communicating, distributing gifts and engaging with them through shared experiences.
Launching initiative on World Heart Day across three cities – Riyadh, Jeddah and Dammam – with 60 male and female employees volunteering to visit cardiac wards across a number of hospitals, visiting patients, engaging with them, distributing gifts and checking on their wellbeing. All employee volunteers received heart examinations and were also given an awareness session on heart health.
Launching national-level community initiative with Dr. Sulaiman Al-Habib Medical Group under the generous patronage of His Excellency the Health Minister and Chairman of the Health Endowment Fund to perform 91 kidney transplants for patients with renal failure at a cost of SAR 18 Mn., coinciding with the celebration of the 91st National Day of the Kingdom.
Implementing "Because Your Health Matters" – an initiative in collaboration with the Kayl Association for combating Obesity – an eight-day awareness programme that provided nutritional advice to the Bank's employees by specialists in Therapeutic Nutrition, sports consultations through a specialised club, and healthy meals through a specialised company.
Contributing to a programme organised by the Department of Community Participation from the General Directorate of Health Affairs in Makkah Al-Mukarramah by providing 20,000 UV umbrellas to Hajj pilgrims.
Successfully concluding three-month long Young Merchant Financial Awareness programme entitled "A Small Step towards Great Success and a Secure Future" with generous support from the Emirate of Al-Qassim in collaboration with the regions' Women Development Committee along with the participation of the Chamber of Commerce and Industry in Al-Qassim, the Onaiza Chamber, and the Al-Rass Chamber. The training programme saw the completion of 5,000 training hours, where 35 students were able to graduate in entrepreneurship, and contributed to increase financial awareness and help develop a culture of saving within the community.
Donating a collective employee contribution amounting to SAR 230,000 to sponsor 20 families of the most needy prisoners through a special initiative that was prepared in cooperation with the National Committee for the Welfare of Prisoners and Released Prisoners and their Families "Tarahum".
Donating a collective employee contribution to cover costs of dialysis for patients presenting their case through the "WAQFY" platform, which is affiliated with the General Authority for AWQAF. The main purpose of the platform is to stimulate community participation and achieve financial sustainability for the non-profit sector. This contribution helped provide haemodialysis services to 50 beneficiaries of the Prince Fahd bin Salman Charitable Society for the Care of Kidney Failure Patients "Kelana", with a total amount of SAR 70,000.
Donating SAR 7 Mn. to the national campaign to support charitable work through the Ihsan platform.
Distributing 2,000 food baskets in 10 areas and governorates for the fourth consecutive year to underprivileged communities, reaching 12,000 beneficiaries.
Pledging SAR 6 Mn. donation to the Wareef Charity to purchase and equip two blood donation vehicles
Signing an agreement with the Disabled Children Association to develop and renovate its integrated clinic while ensuring its operations run for a full year. With the total donation amounting to SAR 1.5 Mn., benefitting more than 100 children annually.
Partnering with the Saudi Food Bank to distribute 50,000 meals in a month to the beneficiaries registered at the association who were greatly affected by the pandemic across the cities of Riyadh, Jeddah, Dammam, Jubail, and Al-Ahsaa.
Completing and delivering 222 housing units in partnership with "Jood Eskan" for families in need under the patronage and in the presence of his Excellency the Minister of Housing, Mr. Majid bin Abdullah Al-Hogail, the Governor of the Saudi Central Bank, Dr. Ahmed bin Abdul Karim Al-Khulaifi, and Al Rajhi Bank's Chairman of the Board of Directors Mr. Abdullah bin Suleiman Al Rajhi.
Donation of RM 76,500 by Al Rajhi Bank – Malaysia to Yayasan Sukarelawan Siswa (YSS) – an entity under the Ministry of Higher Education of Malaysia – to sponsor 50 laptops for 50 first year undergraduates belonging to the B40 category to promote digital equality among the communities in which it operates.
Sponsoring of the second VBI Financing and Investment Impact Assessment Framework Sectoral Guide Townhall organised by the Association of Islamic Banking and Financial Institutions Malaysia (AIBIM) by Al Rajhi Bank – Malaysia as a Member of the Value Based Intermediation (VBI) Community of Practitioners.
Volunteering is encouraged among all employee tiers across the Bank through internal communications and social media updates on various social responsibility projects, with employees allowed to take volunteering leave up to half day. With the Bank exceeding 50,000 volunteer hours accumulated through the dedication of over 10,000 Al Rajhi Bank employees in 2020 – a rewarding milestone - its focus has now shifted to the quality of volunteer programmes, choosing to create a much larger impact across the communities in which it operates.
Community investment
| | | | | | |
| --- | --- | --- | --- | --- | --- |
| | 2021 | 2020 | 2019 | 2018 | 2017 |
| Total number of employees volunteering | 3,663 | 2,625 | 3,191 | 2,904 | 1,634 |
| Total number of employee volunteer hours | 18,315 | 13,125 | 16,265 | 14,115 | 5,735 |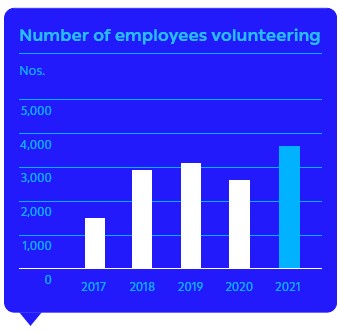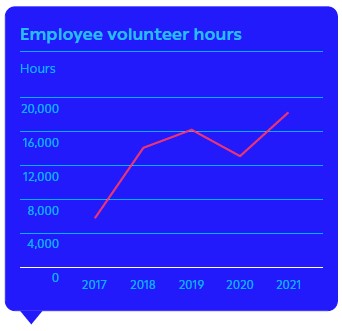 GOVERNANCE
Corporate Governance
The Board
Refer the Board of Directors on Page 132.
Financial reporting and tax transparency
Al Rajhi Bank publishes its interim condensed and expanded Consolidated Financial Statements on quarterly basis and annual basis, where both statements are prepared in compliance with endorsed International Financial Reporting Standards (IFRS) as issued by the Saudi Organisation for Chartered and Professional Accountants (SOCPA) and in compliance with the provisions of Banking Control Law, the Regulations for Companies in the Kingdom of Saudi Arabia and the Bank's by-laws. All such standards, rules and regulations are consistently applied under the supervisory monitoring by the Saudi Central Bank (SAMA) to ensure proper disclosures and a full financial reporting integrity has been met.
Al Rajhi Bank has a dynamic platform of financial and public interest reporting to afford highest efficient and transparent disclosures to the public and investors. That robust reporting platform is designed to ensure and validate financial information and reports through strongly validated financial data processing engines, financial standards compliance, and policies and procedures quality assurance. Al Rajhi Bank also has many internal governance committees and wide range involvement of monitoring departments that work towards producing accurate financial information for all of public users.
Al Rajhi Bank's financial reporting function is also regulated by the Capital Market Authority (CMA), which ensures specific levels of transparency and investor informative sessions are being conducted. Among these rules and regulations is appointing the external auditors, which comes solely from the shareholders general assembly and from the big four international audit firms.
Al Rajhi Bank has revenue recognition policy and procedures that are fully compliant with the international financial standards, and uses the effective profit yield in driving the Bank's income and fees. The Bank also renders some services to the customers where the relevant fee and income are recognised as soon as those services are rendered.
Al Rajhi Bank makes various range of Zakat and tax payments to the General Authority of Zakat and Tax (GAZT). The Bank employs internal and external qualified experts to ensure the perfect compliance with all Zakat and tax rules and regulations applied in Kingdom of Saudi Arabia.
Equity ownership structure
The Bank follows the CMA regulations of one vote per share and disclosure of 5% or more ownership.
Employee remuneration, incentives and other benefits
The Bank's compensation philosophy is derived from a commitment to attract, retain, develop, motivate and equitably compensate employees of the highest calibre and talent in recognition of their relative contribution in effectively conducting the business of the Bank and in achieving the Bank's strategic goals and building a sustainable succession pipeline.
The Bank seeks to provide employees with a compensation package that consists of base salary, allowances and variable pay (incentives/bonuses) that are competitive with those provided by comparable organisations for similar levels of duties and responsibilities. The Bank's employee's compensation package is built towards rewarding performance with emphasis on the "At Risk" component to align and encourage behaviours that support the bank's values and risk management framework, adherence to the internal control framework and compliance to regulatory requirements.
The Bank's compensation policies are reviewed annually by the Board Compensation Committee and recommendations for changes are submitted to the Board for approval. The implementation of the policy is monitored by the Board Compensation Committee with an independent audit and confirmation shared with SAMA on a semi-annual basis.
Al Rajhi Bank's Compensation policy was designed within a risk reward framework. Risk factors are an integral part of the balanced scorecard for senior managers' performance management. Risk measures thresholds have been defined with required triggers for variable and long term bonuses qualifying assessments. To ensure long-term and other risk factors are fully considered, the proportion of the variable bonus that is deferred increases with levels of seniority.
Corporate behaviour
Integrity and transparency are core values that govern the Bank with employees at every level dedicated to being open and honest while maintaining the highest standards of corporate and personal ethics. Committed to promoting high standards with sound policies and procedures in place, the Bank's Corporate Governance Framework is based on five Board committees and supported by Level 1 and Level 2 Management Committees. This structure is underpinned by a series of governance enablers and a world-class compliance framework that is vital to ensuring that prudent and effective controls remain in place.
Customer due diligence incorporates principles relating to Know Your Customer (KYC), customer identification and verification, and identification of 'Beneficial Owners' as well as periodic Anti-Money Laundering (AML) risk assessments in line with regulatory requirements and industry best practices. The Bank performs enhanced due diligence (EDD) procedures on customers assessed as higher risk, including politically exposed persons, and closely monitors customer transactions on a continuous basis for suspicious activity.
All employees, including Senior Management as well as the Board of Directors, receive AML as well as Counter Terrorism Financing (CTF) training. Over the last few years, the Bank has expended considerable effort to deliver employee training and awareness programmes relating to these areas. The Internal Audit Group provided a number of trainings to management staff, and coordination is still ongoing to develop training programmes to keep pace with developments in the areas of internal auditing. The Compliance Group rolled-out a series of training and awareness programmes for Senior Management and Executive Management on compliance matters, with additional focus on emerging compliance risks.
Al Rajhi Bank moved its Anti-Fraud Functions from the Risk Department to the purview of the Compliance Group, following which the Bank developed an Anti-Fraud Transformation Strategy. In line with this strategy, the Bank invested in enhancing Anti-Fraud systems, processes, people capabilities and governance arrangements in 2021. The Bank implemented the globally acclaimed SAS Fraud Monitoring System, with capabilities to detect potential fraudulent activities, complemented by near real-time fraud detection systems to detect and prevent potential social engineering fraudulent activities.
The Bank continued to invest to strengthen AML, Sanctions, Whistleblowing and Anti-Bribery and Corruption systems as well as automation of processes. All policies are approved by the Board and are reviewed once every two years or earlier on a need basis.
Alongside the Bank's rapid digital growth, its Compliance function assessed emerging risks and implemented system enhancements in its efforts to fight financial crime, with SAMA announcing the launch of an open banking framework that is expected to go live in Q3 2022. Furthermore, Saudi Arabia has issued its first comprehensive national data protection law to regulate the collection and processing of personal information. The Bank has commenced a series of activities to comply with the key principles as it relates to Personal Data Protection Law and considers the impact of open banking and emergence of FinTech, at a local scale. During the year under review, Al Rajhi Bank's data protection was doubled in compliance with SAMA mandates to two levels; first with the installation of an offline data vault in Jeddah, and second a Cyber Recovery Site (CRS) for data recovery in case of cyber-attacks. In 2021, the Bank's IT Services also executed two full interruption Disaster Recovery (DR) tests as well as nine controlled DR drills successfully.
The restructuring of the internal audit team and recruitment of more staff with complementary skills to fill senior and technical positions carried out in 2020 had a significant impact on the workflows and efficiencies of the team in 2021. Following the appointment of the group Chief Internal Audit, the team has continued to build a new strategic plan that works to develop the Group's business to be a major partner for the Bank in achieving its goals and in line with recent changes in the field of digital transformation of the Bank and its business. It also works on developing the Group's employees as business partners in the Bank and providing professional advice as well as providing assurances about compliance with the Bank's policies, procedures and control systems. It is expected to be approved by the Audit Committee in early 2022.
The Kingdom has taken several key initiatives to fight bribery and corruption related crimes across the country. The Bank's compliance group continues to assist such initiatives by responding promptly to enforcement action requests. The Bank also invested heavily in the 'Tanfeeth' programme that enables responding to KSA ministries' enforcement actions. In line with recent SAMA regulations, the Bank also formed a unit with primary focus on detection and reporting of Commercial Concealment activities.
Compliance group obtained the ISO/DIS 37301: 2020 certification issued by GQNet in the United Kingdom. The Bank's Tier-1 global correspondent banks have acknowledged the effectiveness of compliance group's framework, systems and controls. The Bank now does business with multiple Tier-1 global correspondent banks, a key achievement of the compliance transformation journey. The Bank received 'Elite Award' from J.P. Morgan for achieving 99.9% straight through processing (STP) of the Bank's US4 clearing transactions. During the year under review, the Bank achieved similar STP success rates.
Bank complies with all Financial Action Task Force (FATF) recommendations that affect the Banking and Financial Institutions. During the recent FATF mutual evaluation of the Kingdom of Saudi Arabia, the FATF team visited the Bank to assess Al Rajhi Bank's understanding and implementation of its recommendations. The Bank's compliance group made a presentation, which was well received by the FATF team and SAMA.
The tone-at-the-top from the Bank's Executive Management and the Board of Directors on compliance matters continues to be extremely strong. During the year under review, the compliance group invested heavily in technology and people capabilities to sustain the positive results of the transformation program. At the same time, the Bank is preparing for emerging compliance risks in the digital world. The Bank is working on multiple compliance/financial crime related use cases as part of AI, Machine Learning and Big Data initiatives.
Additionally, all employees are mandatorily required to read and confirm their understanding of the Employee code of conduct on an annual basis. The code of conduct specifies all behavioural practices required to be adhered by all employees along with Values and Business Principles. Employees are also guided by relevant Policies, Procedures and regulatory guidelines pertaining to their area of work. Non-compliance to rules and regulations will negatively impact the performance assessment of the employees along with negative impact on rewards propositions.
While the Bank must remain profitable inorder to sustain its performance as a going concern, it acknowledges that immediate shareholder returns must be balanced against wider responsibilities to society and the environment. Such a balancing act requires the Bank to compare trade-offs and tensions in the investment and expenditures of its various capitals.
By emphasising the short, medium and long term (refer Value Creation Model on page 26), the Bank underlines its understanding that the relationships with its stakeholders are symbiotic. From a sustainability point of view, ensuring productive outcomes for society and the environment is completely consistent with the interests of the shareholders in the long term. For this reason, the Bank's sustainability strategy is thoroughly integrated with its core business activities, its business strategy and inculcated to the ethos of its people.