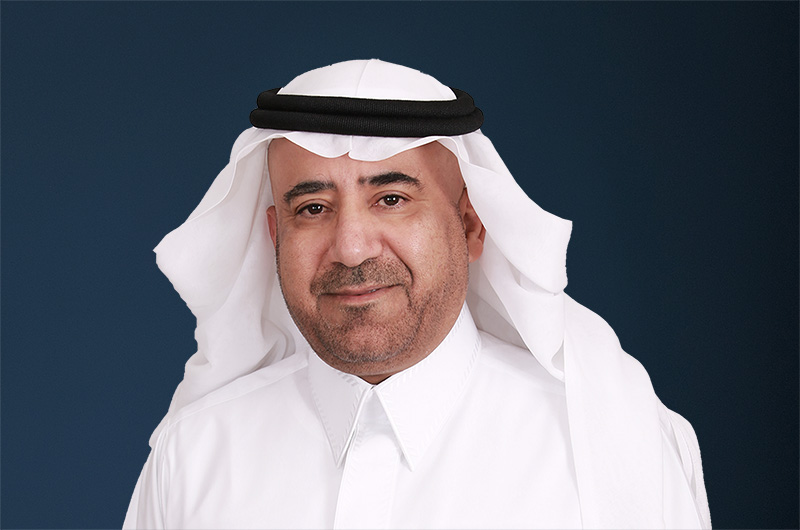 Al Rajhi Bank's new identity "unbank the bank" focuses on understanding and empowering people to reach their full potential through comprehensive financial solutions rapidly and efficiently.
When we developed the "Bank of the Future" strategy, we were aware of the effort and discipline required to achieve our ambitious goals, and we were determined to overcome all challenges to achieve them. Today, and as we launch our new brand identity entitled "unbank the bank", we are thrilled with our achievements, and are looking forward to better serving our country's economy, our customers, and our society.
At Al Rajhi Bank, we remain conscious of the continuous changes sweeping the global economy, while keeping pace with the developments of the Saudi economy. With the help of our technical capabilities and industry leadership, we continue to intensify our efforts to support the Kingdom's endeavors to achieve progress and prosperity. We are also keen to develop new initiatives and create innovative ideas to increase our achievements, making substantial investments in our human capital, whom we believe is the Bank's and the entire country's valuable asset today, and our real wealth in the future.
According to the Global Entrepreneurship Monitor (GEM) report, the Kingdom of Saudi Arabia ranked first worldwide in responding to COVID-19 pandemic and its resulting crises. The country overcame the repercussions of the pandemic efficiently and demonstrated a globally exemplary model, thus contributing to the gradual return to normal life and the resumption of activity and operations across all sectors.
Under the leadership of the Custodian of the Two Holy Mosques and His Royal Highness, the Crown Prince, may God support them; our country not only managed to overcome these difficult challenges but also turned those difficulties into an impetus for change. During these challenging times, our bank under the supervision of the Saudi Central Bank contributed to the country's efforts to stimulate the private sector and support micro, small and medium-sized enterprises (MSMEs). These efforts coupled with increasing government spending had positive effects on various sectors, such as increasing employment opportunities, attracting local and foreign investments, as well as achieving structural transformations that support long-term growth, while continuing to implement reforms in the labor market.
The economic development measures taken by the Kingdom have been successful and we have all seen their positive impact reflected in the first quarterly budget surplus for Q3 2021 since Q1 2019. These consecutive steps towards economic growth supported by successes at all levels of administration and operation were culminated in Moody's confirmation of the Kingdom's credit rating at A1, adjusting the country's future outlook from negative to stable.
Since its establishment six decades ago as one of the major Saudi financial entities, Al Rajhi Bank has succeeded to keep abreast with and support the subsequent stages of progress and development in the Kingdom. Today, Al Rajhi is proudly ranked among the world's 15 largest banks in terms of market capitalisation, which placed it ahead of its Middle Eastern counterparts with a value of SAR 354.5 Bn. (USD 94.5 Bn.) by the end of 2021.
The Bank continued its journey of success achieving more positive results, with a net income after Zakat of SAR 14.7 Bn. recorded for the year under review, compared to SAR 10.6 Bn. in the previous year. This growth resulted in an increase in shareholders' equity by 15.8% amounting to SAR 67.3 Bn. The Bank's total assets increased by 33% compared to the previous year reaching SAR 624 Bn.
To confirm its leading role in offering an integrated ecosystem of financial solutions to corporate and individual clients, the Bank provided more digital services and solutions to both large companies and MSMEs. Since then, the sector's financing portfolio has grown by 34%, and the retail mortgage financing has grown by 63% to support the goal of increasing Saudi homeownership. The Bank also concluded partnerships with many government and private entities to achieve a more dynamic and diverse economy, in line with the Saudi Vision 2030.
Al Rajhi Bank's growing role and repute have been and still are the direct result of the ongoing evolution of the Kingdom financial system, as well as the fruitful and growing cooperation with the Saudi Central Bank, regulatory authorities, and all customers and partners.
In a turning point on its remarkable journey, Al Rajhi Bank launched its new brand identity entitled "unbank the bank" which will be further explained and analysed in this report. The new identity focuses on understanding and empowering people to reach their full potential through comprehensive financial solutions rapidly and efficiently.
This report features details of Al Rajhi Bank's role in the field of social responsibility, which is indeed a source of pride for all its employees. Through its focused and strategic social initiatives, we seek to fulfill our duty towards the community in ways that create the most impact. We believe we owe so much to the very community that supported us as we were taking our first steps in this business, and will continue to ceaselessly develop and implement more impactful initiatives. Accordingly, we launched a joint initiative with one of the most prominent private health institutions to perform 91 kidney transplants under the supervision of the "Shifaa" platform affiliated to the Ministry of Health. We have also donated seven million Saudi Riyals to the national charitable platform "Ihsan" . Other initiatives will be further detailed in a later stage in this report.
In 2021, several awards were added to our track record of local and global recognition, including four new global awards from Global Banking & Finance 2021, namely, the best bank in the GCC for retail banking, the best bank in the Kingdom for digital banking, the best bank in the Kingdom in foreign exchange, and the best bank in the Kingdom in treasury business. These awards further emphasise the Bank's excellence in digital banking services, funding, and digital account opening.
Al Rajhi's investment in human resources remains among its top priorities, as we believe they are our cherished assets at present and our fortune in the future. Therefore, we are keen to provide advanced training to develop and qualify national cadres to excel in banking services through the Al Rajhi Bank Academy and other specialised training programmes. We aim to transform our distinguished staff into specialised consultants who can provide financial solutions to customers and companies, and achieve our goal of rendering Al Rajhi Bank the best work environment for employees. We also seek to support and qualify women to work and succeed in all departments, sectors, and job levels.
In conclusion, we at Al Rahji Bank are honored to express our gratitude and loyalty to The Custodian of the Two Holy Mosques, and His Royal Highness, The Crown Prince, may God support them, for the progress and prosperity achieved by the Kingdom under their wise leadership. We also extend our thanks to the Ministry of Finance, the Ministry of Trade and Investment, the Ministry of Health, the Saudi Central Bank, the Capital Market Authority, and all other government agencies. We also wish to thank our shareholders, valued customers, and partners. I would also like to express my gratitude to the Honourable Head and members of the Sharia Board at Al Rajhi Bank for their invaluable advice and guidance. I thank my esteemed colleagues, the members of the Board of Directors, and take pride in our human capital in all departments, sectors, and subsidiaries, whose dedication and creativity enable us to achieve our strategic goals. We pray to the Almighty to protect our beloved country so it can fulfill its message to serve humankind at all times and in all places.
May God bless us all with success.
Abdullah bin Sulaiman Al Rajhi
Chairman